We trust in SOMMER drive technology and can do it

Recommend with a very good feeling!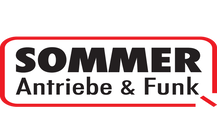 The innovation for garage doors

Flexibly mount the control housing on the wall or ceiling.


quality

- pro + is the innovative further development of the successful base + garage door operator from SOMMER, now even more flexible and convenient thanks to a separate control housing.
- Integrated LED technology: long-lasting, energy-saving and efficient lighting.
- Universal drive for sectional doors, overhead doors, up-and-over doors, up-and-over doors, etc.
- energy-saving 1 watt stand bay
- Made in Germany

security

- Motor with high self-locking and active counter pressure at every point in the event of a break-in attempt.
- Connection option for battery pack for emergency operation in the event of a power failure.
- Thanks to the integrated note lock, the carriage can be engaged and disengaged at any position.
-Locking magnet for motor (burglar protection) locks in every position, even with ventilation function / partial opening (optionally available).
- bidirectional, safe radio system.

versatility

- Numerous accessories for expansion, e.g. transmitter memory Memo, humidity sensor Senso, locking magnet Lock, additional lighting LED Lumi pro + and much more
- 2 integrated control buttons in the control housing for controlling the door and the lighting function or the partial opening
- Removable carriage without dismantling the running rail
- Short cabling routes for wall mounting for accessories (light barrier / warning light / external button ...)

intelligence

- Automatic learning process: self-learning force curve with continuous adjustment, e.g. summer / winter operation.
- Optimized speed profiles for quick opening and safe closing.
- standard-compliant operation.
- Automatic calibration of the door travel through direct input of the measured operating forces.
- Preselectable gate types via dip switches.
- Active braking when the gates are pulling.
- Numerous setting and query options via SOMlink.
- Gear-friendly soft start / stop.
- Automatic end position detection in door CLOSED when teaching in, the closing pressure can also be individually adapted to the structural conditions.